This journal may contain spoilers. You have been warned.
This is a journal with critique and an overdose of images. Might contain color & character design tips.
I love a pony with a great color scheme. One that fits the feel of the show and all that.
And I love a good background pony design when it comes around.
So, let's get straight to the point: THIS PONY.
They don't come any more alpha than this.
THIS PONY (can I call her
Thundercloud
?) does not have "a good background pony design". She looks like a generic, poorly designed OC.
Her mane was black as the night with a streak of actual lightning in her mane. She was best friends with rainbow dash and was also the seventh element of Harmony: darkness, to represent the darkness in us all. She defeated Discord one thousand years ago and also chrysalis and sombra too and helped Celestia do the dishes last night.
You probably get my point.
Now if you're wondering what all this fuss is about, I'll go over some basic color stuff, using this image.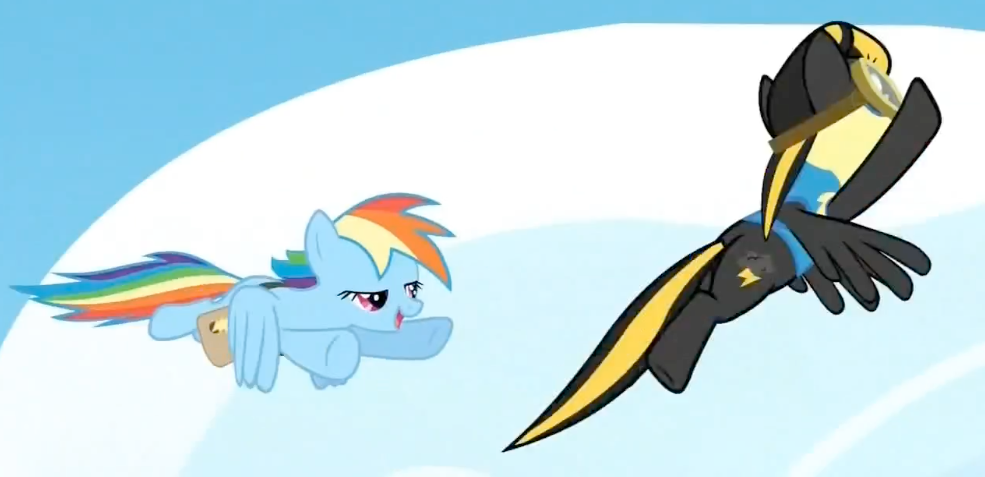 Snap out of it, Rainbow. Bronies will get the wrong idea.
So first, let's have a look at Rainbow Dash' color scheme. Usually, I'd go for a "less is more" principle and restrict a character design to two or three colors, but I suppose the abundance of colors is part of Rainbow Dash' colorful personality. And rainbows and stuff.
This is Rainbow Dash's color scheme. Her mane is actually a bit more saturated than I initially thought, especially the blue. The reason for that is that the same blue is also used for her outline, which makes her pop out of the background. It makes her
fit in
instead of
blend in
. She'd be a part of the background if you took away her outline and overly colorful mane.
So why don't we have a look at Thundercloud's lovely color scheme now?
Well, for one, she sticks to the less is more principle, right? And the yellow seems perfectly fine, and her coat is...
Wait...
Black is the color of my soul.
I'd like you to go back to Rainbow Dash's color scheme, and look for even one reticule that was even close to being as low on this color chart as Thundercloud's coat color is. Try it. Please, try it?
So what, just because her coat is so dark doesn't make it a bad design, right? Even
if
black-and-yellow is a ridiculously cliché color scheme.
You're completely right, which is why we'll handle another very important subject in character design. Perhaps even more important than colors: contrast.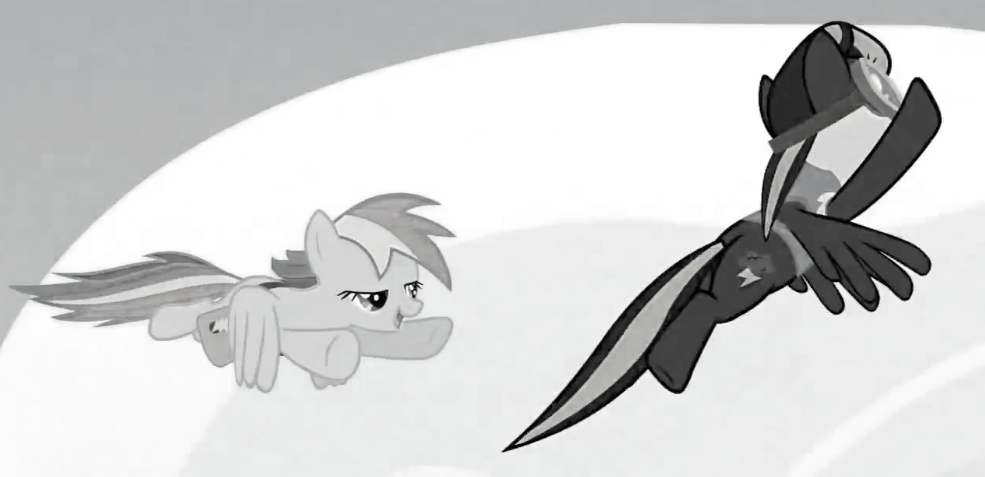 No comment.
I think the image above actually does all the talking, but I'll make you read some more text either way.
On her own, her design still isn't that bad. Her eyes would pop out great, the uniform does her good and the streak accentuates her mane and tail.
But for a
Friendship is Magic
design? Terrible. I'm sorry, it just is.
As shown in the image, Rainbow Dash has relatively low contrast in her design. Her mane is, overall, darker than her coat, which goes for most pony designs. She's not too bright and definitely not too dark and, as I said earlier, she
fits in
.
Now, Thundercloud. She definitely does not
fit in
. She's like an oil stain on a very clean, bright handkerchief. A handkerchief you loved. It literally looks as if she was pasted onto the image at a later time, instead of made with the background in mind. She's in too rough contrast with the background, making her somewhat of an eyesore and unbalancing the shot.
(If you're not sure what I mean by unbalancing: imagine placing a weighing scale in the middle of the image. The right side seems heavier. Artists often balance this out by placing contra-weight on the other side of the image. It's true, look it up.)
"But what about Thunderlane?"
What about me?
Oh boy, and here I thought this journal was already too long. Let's go over the basic things we've learned, and decide wether or not I should hate Thunderlane.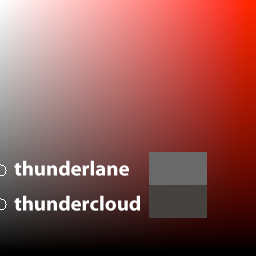 So firstly, the color scheme. Thunderlane's mane has a light, minty color, with a brighter variant for accent and variation. His coat is still very dark, though. The greyscale version show
how
dark.
I'm not ready for critique.
Remember what I said about Thundercloud being an oil stain on a perfect handkerchief? Thunderlane isn't like that. While he might still be too dark for the show's feel, he somehow manages to.. Almost fit in. Close enough, I'd say.
I'm just going to cut it short here (short, hah!). Leave a comment if you have anything to say ("You have no life! Boo!" as a fine example), I'd appreciate it!
... Also, there was way too much Pinkie Pie for a Rainbow Dash episode.